Solution for financial indigestion by Hong Kong fintech start-up Apoidea
Helping make sense of vast quantities of business information and data proves a hit with this start-up's investors.
30 June 2020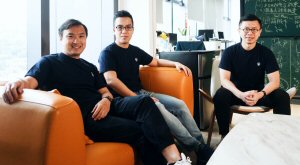 Scanning reams of financial documents while sorting through bundles of data is an essential skill for anyone running a business – and Hong Kong fintech start-up Apoidea has won favour with investors by offering artificial intelligence (AI) solutions which take on this process.

The three co-founders of Apoidea – Hardy Liu and Justin Chiu graduated in 2010, while Cheney Cheng graduated in 2011. Mr Cheng and Mr Liu, both business graduates, launched their careers in investment banks while Mr Chiu became an actuary. All of them have foreseen AI applications as a strong trend in the financial industry, with AI protocols applying algorithms to large datasets in order to "train" machines and let them learn how to perform tasks.

Shortly after the three founders graduated, AI researchers working on machine-learning began to achieve breakthroughs in deep-learning, leading machines to outsmart humans in some areas. Then in 2015 the AlphaGo programme, developed by the Google Deepmind team, defeated the world champion in Go, confirming the potential of AI applications. Go is an Asian board game with simple rules but requiring complex tactics and strategies, which machines had, until then, found very difficult to play. By contrast, chess-playing computers were already beating human masters in the 20th century.

The inspired Apoidea trio then founded financial media company Market Digest in 2015. The firm uses AI to select appropriate financial content and analysis, then they edit and produce the content for publication on a Facebook page.

Mr Cheng, who is responsible for technology research and development, said the firm's investment analysis is mainly divided into quantitative and qualitative categories. "Quantitative mainly analyses trends through statistics. Qualitative analyses business prospects through annual reports, news, research reports, management visits, etc. He compared the application to legendary American investor Warren Buffett, Chairman of Berkshire Hathaway, analysing companies' business prospects by studying their annual reports. An understanding of the cultural background, context and generally understood meaning behind words was needed to fully understand the meaning of the text, Mr Cheng said. AI did not achieve the necessary critical breakthroughs in text analysis until 2018.

He gave the four-character phrase "under Mount Fuji" (富士山下) as an example "Just looking at these four characters, you wouldn't know much. But through NLP [Natural Learning Process], you know that Mount Fuji is in Japan, and that this is the title of a song by Eason Chan."

The company uses an NLP engine to process and analyse every piece of financial information, Mr Cheng said.

"For example, a news report might say HSBC Securities is optimistic about prospects for the Hong Kong Stock Exchange (HKEx). In this story only "the prospects for HKEx" is important information. The story has nothing to do with HSBC, and the ability to tell what the main content is will affect the accuracy of the resulting analysis." The accuracy of financial information revealed by this AI engine has successfully attracted readers and the first multi-million-dollar capital injection.
Technology aims to create greater value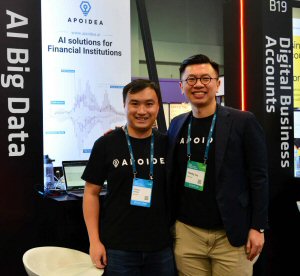 Market Digest served as a pilot trial, confirming the start-up's ability to master the innovative technology and creating a starting point. But the firm needed to understand market requirements to attract the interest of customers and investors. The key to a market breakthrough would lie in the details of applying technology, giving the firm a stable market base.

Apoidea is working with several financial institutions to apply the AI technology to business processes, automating traditional processes and improving operational efficiency, Mr Cheng said. Banks use financial statements to evaluate corporate-loan applications. Corporate reports follow established accounting standards but companies still have different report designs and wordings, and bank staff spend a lot of time analysing this disparate material before completing a loan approval. However, AI training models would enable banks' machines to extract the required data in as little as five minutes. Then the same staff can review the data and complete the approval.

Mr Cheng said the three founders have backgrounds in the financial industry, making them familiar with the operating procedures of financial institutions and helping them understand market needs. This understanding helped them develop suitable products.

"We tend to analyse rationally and believe in data. As long as an innovation feels feasible, it will be tested for cost-effectiveness."

Mr Chiu said a start-up may succeed or fail depending on how flexibly it responds to market needs. The company now has a head-count of about 40, including multiple data scientists and engineers. In addition to improving AI, engineers can make technical adaptations to meet the needs of specific clients.

At present, the firm has cooperated with more than 10 international financial institutions – including investment banks, commercial banks and securities dealers – and its offerings include financial analysis automation, market-information monitoring systems and marketing service automation. The company completed the Pre-A round of financing in November 2019, raising over HK$10 million. Heavyweight investors include E Capital, the private investment arm of PCCW Chairman Richard Li.

Mr Cheng said he is confident in Hong Kong's status as an international financial centre despite recent events. Funds they have raised will be used to develop international markets.

"Despite the COVID-19 outbreak, we are introducing products to customers in Germany, Switzerland, the United Kingdom, Italy, Malaysia and other economies through video conferencing. Customers are more willing to negotiate business through the Internet," he said, adding Apoidea products will also be developed in different languages as the firm aims to move towards internationalisation.

A volatile business environment favours the flexible and agile Hong Kong start-ups are well-placed to capture business opportunities. Hong Kong Means Business is launching a "Voice of Start-ups" series, showing how their creativity and versatility helps them thrive.