Festive Online CNY Event NHKBA Well Attended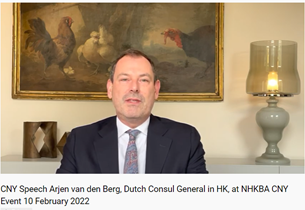 More than 50 members and special guests attended the Festive Online CNY Event of the Netherlands Hong Kong Business Association on Thursday 10 February 2022. Viewers from the Netherlands, but also Belgium, Hong Kong, Norway and the United Kingdom joined the online meeting.
Members received a special CNY Gift Box in the mail, so that could enjoy an snack and a drink during the one hour event.
Live music was performed by Hong Kong born Ms Fiona Foo (Marimba) and Mr Bonaventura Oliviero (Flute).
Following welcome words by NHKBA Chairman Hans Poulis, the keynote speech was delivered by Mr Arjen van den Berg, Consul General of the Kingdom of the Netherlands to Hong Kong and Macau.
Click here to view the full speech
The second guest speaker was Mr Eddie Cheung, Special Representative for Hong Kong Economic and Trade Affairs to the European Union, based in Brussels.
The third speaker was Ms Paula Kant, Head of Investment Promotion at InvestHK, also based in Brussel.
The final speaker was Mr Silas Chu, Regional Director Europe, Central Asia and Israel of the Hong Kong Trade Development Council, based in Frankfurt.