Coronavirus: Hong Kong lifts all restrictions on arrivals to city, ends '0+3' regime

By: Tony Cheung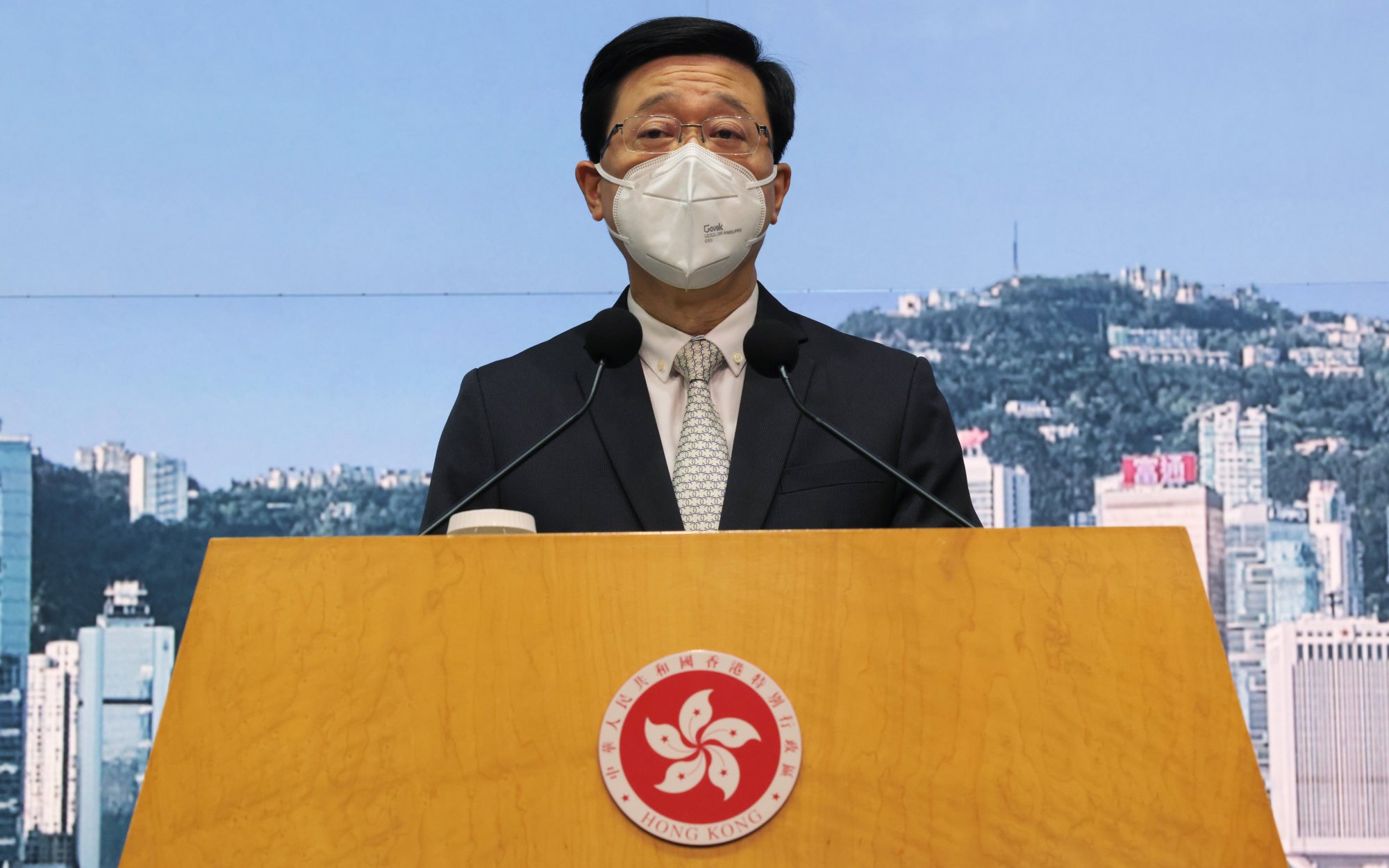 Hong Kong leader John Lee addresses the media on Tuesday 13 December. Photo: Jelly Tse
This story has been made freely available as a public service to SCMP readers. Please consider supporting SCMP's journalism by subscribing.
Key points:
From Wednesday, no more amber health code for arrivals, who can roam freely in the city if they test negative

Residents will not be required to use the risk-notification 'Leave Home Safe' app

Compulsory PCR tests issued to residential buildings will be reduced. Only staff in hospitals and nursing homes will be required to undergo PCR tests. Workers in other occupations can opt for rapid antigen tests

No more checkpoint PCR test required for cross-border travellers entering Macau and mainland China

Infected people will not be given electronic wristbands
Hong Kong is scrapping its amber health code from Wednesday, effectively lifting all travel restrictions for arrivals into the city who test negative and removing a key source of frustration for travellers who are subjected to curbs during their first three days of stay.
Officials on Tuesday also announced more relaxed measures, stating that residents would no longer need to scan QR codes with their "Leave Home Safe" app to record visits to premises. But entrants to designated venues, including restaurants, will still need to present their vaccination records.
Compulsory polymerase chain reaction (PCR) tests will also be scrapped for many occupations and at checkpoints for cross-border travellers.
"The decisions were based on data and risks," Chief Executive John Lee Ka-chiu told the press before his weekly meeting with the Executive Council, his key decision-making body. "The infection risk from imported cases is lower than the risk from local infections. We believe that the lifting [of the measures] will not increase the risk of local outbreaks."
Currently, travellers arriving in Hong Kong are put under a much-criticised "0+3" regime where they are issued an amber code on their health app even if they test negative and banned from entering restaurants, gyms and beauty parlours during their first three days.
But with the latest move, Hong Kong is effectively adopting the "0+0" regime, and all incoming travellers who test negative will be given a blue code on their health app and can move about the city freely.
Health minister Lo Chung-mau said separately data gathered in the past month showed a 3.8 per cent infection rate among imported cases, meaning 38 out of 1,000 incoming travellers were found with the virus upon arrival. Only 1.6 per cent of them were found to be infected later – lower than the 2.5 per cent local infection rate.
Under the new rules, arrivals who test negative with a PCR kit can immediately go into the community, entering restaurants, bars, theme parks and museums. Those who test positive will still receive a red health code and have to follow the usual isolation protocols. Arrivals will also still need to take a PCR test at the airport and on their third day in the city, and a rapid antigen test (RAT) for five days.
Electronic wristbands for infected people will also be scrapped, as Lo said the red code could already effectively prevent the spread of the virus in the community.
Mandatory PCR tests will also be largely reduced in the community and for those crossing the border to mainland China. Travellers heading to the mainland and Macau no longer need to undergo pre-departure Covid tests at checkpoints from Wednesday. They only need to complete a PCR test 48 hours before departure.
Mandatory PCR tests will only be required for high-risk groups, including hospital staff and workers at care homes, while employees in other occupations can choose to do RAT tests voluntarily. Compulsory PCR testing notices issued to residential buildings will also be reduced.
With the dropping of the use of the risk-exposure "Leave Home Safe" app – introduced in November 2020 – restaurant patrons only need to show proof of their vaccination records, via other apps on their mobile phone or on paper.
"We still require patrons to show their vaccination records as this will encourage residents to take jabs, especially among our elderly and children," Lo said. "We can also protect those who are unvaccinated from entering high-risk premises."
He also revealed latest data from waste water surveillance showed the current Covid-19 wave might have plateaued, and despite the large number of infections, the healthcare system was still functioning well, an improvement from previous waves and earlier in the year.
Health authorities recorded 14,717 cases on Monday, of which 5 per cent, or 704 cases, were imported.
Asked whether Hong Kong's border with the mainland could also be reopened before Lunar New Year on January 22, Lee said his government had been working hard with central authorities on the matter.
"This is close to my heart, and I'll do everything I can to facilitate it … Our goal is to allow normal cross-border travel as soon as possible, but we can only progress in accordance with the actual situation," he said. "We all know the epidemic situation, the number of infected cases on the mainland."
Last week, Hong Kong eased quarantine and isolation measures in an incremental move following a major shift in Beijing's zero-Covid policy.
As part of the central government's newly eased policy, Covid-19 patients with mild or no symptoms can isolate at home for five days instead of having to spend a week at a centralised government facility. Their close contacts can also quarantine at home for five days instead of eight.
Mainland residents no longer need to present a green health code, previously issued to PCR-negative users, when entering public places, except hospitals, schools and care homes for the elderly.
From last Friday (9 December), residents and arrivals infected with Covid-19 have been allowed to leave isolation on the fifth day instead of the seventh, if they test negative for two days in a row. The shortened period also applies to unvaccinated close contacts, previously required to isolate or quarantine for seven days.
The catering sector earlier expressed disappointment over the lack of changes in social-distancing rules, pointing out their Christmas and new year business would be affected.