The Business of (E)Sports in Hong Kong and Mainland China
Image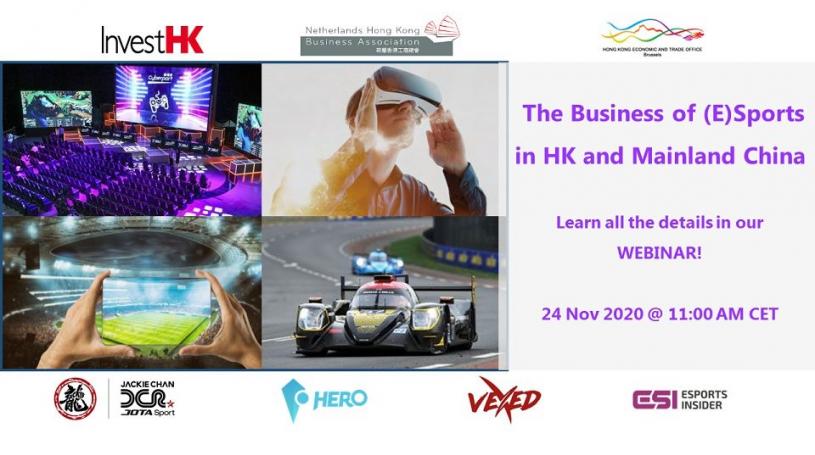 The Business of (E)Sports in HK & Mainland China
Explore together with us the Future of Sports in the Digital Age
Join our Free Webinar to get first hand insights about the Hong Kong & Mainland China (E)Sports market and learn more about opportunities for European players in Asia.
Agenda
24 November 11:00 am - 12:30 pm CET / 6:00 pm - 7:30 pm HK Time
Welcome Remarks by InvestHK & NHKBA
Hong Kong - a destination for major sports events Ms. Fiona Chau , Hong Kong Economic & Trade Office
Motorsport in Hong Kong & Mainland China Mr. Ho-Pin Tung, Racing Driver, Jackie Chan Racing Team
Modern Sports in China Ms. Bettine Vriesekoop, Writer, Former table tennis champion, Former correspondent of NRC Handelsblad
Esports - the key to millennial and Gen Z consumers Ms. Pei-Zhi Liou, COO, Vexed Gaming
Case Study 1 Mr. Paul Polterauer, CEO & Co-Founder of Hero
Case Study 2 Mr. Sam Cooke, Managing Director and Co-founder at Esports Insider
Q&A Moderated by Ms. Paula Kant, InvestHK Brussels
Closing Remarks Dr. Wing-hin Chung, InvestHK Berlin
================================================================
Why Hong Kong?
Top venue for world-class sport events
Regional business hub that serves as ideal base to navigate Greater China
Multitude of collaboration & partnership opportunities within the Greater Bay Area
Learn more about your business opportunities in Hong Kong and visit us on www.investhk.gov.hk.